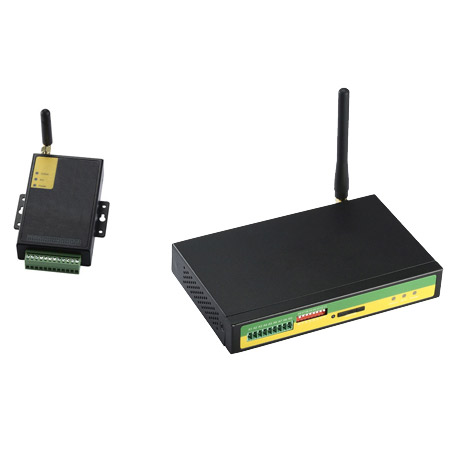 SAMIO FF - 3G
Two models in this series are the F2414 and the F2164. The F2414 IP MODEM is a cellular terminal device that provides data transfer function by public GPRS/CDMA/WCDMA/EVDO network. F2164 is a wireless remote terminal unit that has advanced features and functions (analog input, switch input, switch output, pulse counting, and wireless data communication etc.). They adopt high-powered industrial 32 bits CPU and embedded real time operating system. They support RS232 and RS485 (or RS422) port that can conveniently and transparently connect one device to a cellular network, allowing you to connect to your existing serial devices with only basic configuration. They have low power consumption states. They also have compatible digital I/O channel, ADC, input pulse counter and pulse wave output function. They have been widely used on M2M fields, such as intelligent transportation, smart grid, industrial automation, telemetry, finance, POS, water supply, environment protection, post, weather, and so on.
UMTS/WCDMA/HSDPA/HSUPA Network.

Support multi online trigger ways, including SMS, ring and data. Support link disconnection when timeout.

Low power consumption design.

Support multi-sleep and trigger modes to reduce the power dissipation farthest.

Supply 5 I/O channels, compatible 2 pulse wave output channels, 2 analog inputs and one pulse input counters.

RS232/RS485/RS422 port.

Embedded Real Time Clock(RTC) circuit.

Provide management software for remote management.

Power range: 5-36V-DC
More features in F2164:
Support RTU extended protocol. Reporting mode can be selected. there are three reporting mode, including Network only, SMS only and Main network SMS backup (it uses SMS. when network connect fail).

Support TCP MODBUS RTU protocol using TCP2COM software that converts TCP to virtual serial port.

TTL logic level RS232 interface can be customized.

Support 8 digital inputs and 8 analog input manual query and automatic report.
Hardware system
CPU: industrial 32 bits CPU

Flash: up to 2MB (Depends on the model) (Extendable)

SRAM: 512KB (Depends on the model) (Extendable)
Interface
1 x RS232 port and 1 x RS485 port: 15KV ESD protection (For both models)

F2164

8 x Digital inputs

4 x Digital outputs

4 x Relay outputs

8 x Analog inputs

F2414

2 x DI/O

2 x Analog inputs

1 x Pulse input counter

Physical Characteristics
Iron, Providing IP30 protection

F2164: 157x97x25mm (weighting 500g)

F2414: 91x58.5x22mm (weighting 210g)

Operating temperature: -35°C to +75°C

Antenna port lightning protection (Optional)
Working states
F2164

Communication: 88-100mA@12V-DC

Standby: 52mA@12V-DC

Timing power OFF: 0.9mA@12V-DC

F2414

Communication: 70-200mA@12V-DC

Standby: 16-29mA@12V-DC
Both units are CE and FCC certified.