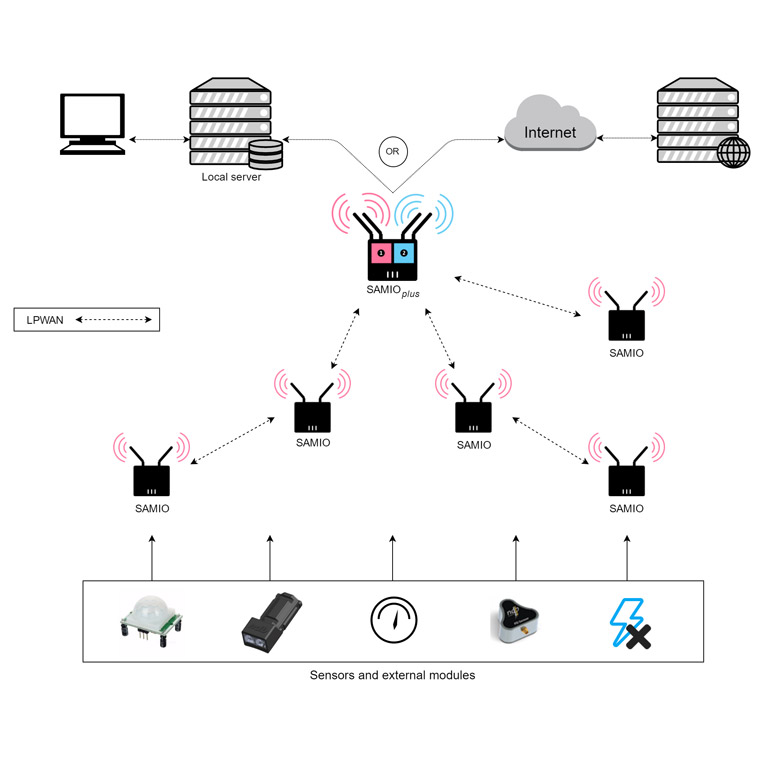 SAMIO PLUS
SAMIO is a polyvalent monitoring system that supports distribution utilities in a broad range of remote applications independent of existing level of automation. It is a proactive smart solution that boosts network improvement and increase productivity as well as customer services & satisfaction.
Simply, SAMIO can monitor and control any low and medium distribution asset covering most activities in operations, maintenance and asset management.
SAMIO is designed to be an open architecture turn key product serving all types of needs; Our unique turnkey integrated solution offers distribution service operators a vast system starting from low-end sensors, hardware terminals, communication till software integration with GIS or SCADA. It complies with all smart grid engineering requirements and it stands as a must in the revolution of decentralized micro generation from renewable energy.
SAMIO system is an open design smart tool which can fit anywhere due to its compact size and water-proof ability; SAMIO is a web-based service that supports mobility solutions as well as a local solution for special requirements. SAMIO soft tool is compatible for integration with GIS system whereas on the other side, it has a user-friendly local application which is ready-made to support customers who do not have GIS.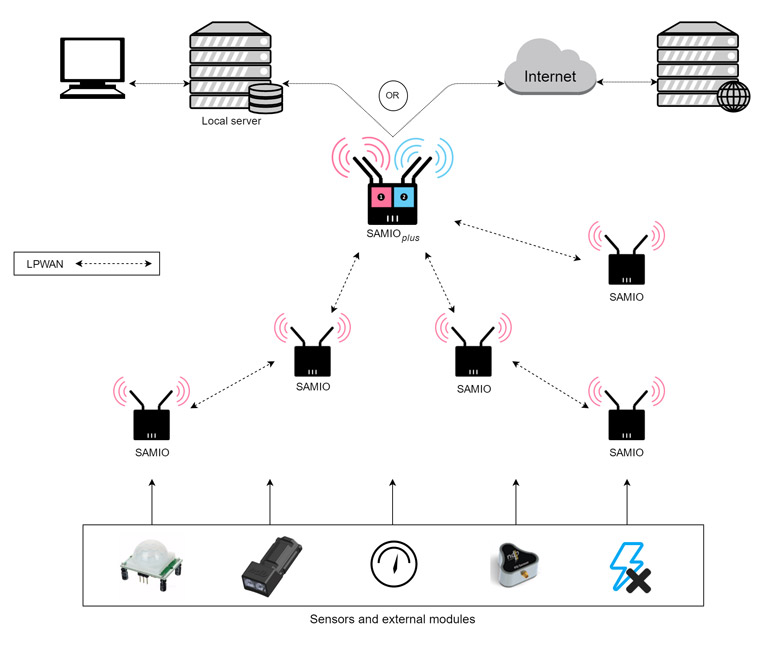 SAMIO is powered by Low-power WAN and mobile network technologies that are designed for M2M networking environments. LPWAN is the best fit technology for wide smart grid coverage where less data is needed for distribution network. And due to its very low power consumption, SAMIO is ideal for remote locations where it could simply rely on its internal battery and solar charging. Furthermore, SAMIO LPWAN is based on license-free frequency, which gives the choice to the user to operate his network at a lower cost due to non-running OTA (over-the-air) expenditure, as well as, it increases the system performance & reliability due to its unique design. As a result, the network can support more devices over a larger coverage area than consumer mobile technologies and have better bi-directionality and operability. Our product can communicate over 2 RF networks or 1 cellular network depending on the model.
SAMIO provides the following features and applications:
User friendly, fast implementation, and immediate return on investment.

Fast SAIDI reduction impact.

Existing assets are retrofitted with easiness.

Can be a standalone system, or integrated with GIS or DMS.

Facilitates mobility and makes network management easily achievable.

Monitor assets connected to LV and MV networks and initiate Proactive / Reactive alarms

Remote control of the equipment

Schedule transformers/machines ON/OFF on a predefined scenario

Pull/Push features allow getting notification when initiated or to collect & store data in a server, and plot a graphical trend for the different concerned parameters for a better insight about overall performance of the connected unit.

Configure alarms as per engineer operational decision which may be different for different locations or applications.

Improve HSE.

Support Asset Management: Asset Health Index, Asset Risk Index?
Additional modules add more features:
Achieve a real-time energy usage measurement and actual status of equipment(s)

Collect various electrical parameters values (voltage, current, frequency, Power factor, THD)

Provide a leading tool in "Demand Side Management-DSM" for electricity companies and help them to reduce total peak load when needed to comply with generation measures

Support Access Control of Substations

Monitor Earthing continuity in Oil & Gas tanks
Technical and physical specifications of SAMIO:
Operating Voltage: 100-265V-AC source or direct 12V DC with reverse-voltage and overvoltage protection.

Wireless Communication:
Ingenu RPMA® Network
Ingenu RPMA® (Random Phase Multiple Access) network is a wireless network that operates in the 2.4 GHz ISM band.
Secondary Sub 1-GHz Network
Ultra-low power long-range wireless network that operates in the Sub-GHz band connecting downstream sensors. Frequency: 433/868/915 MHz.
HSDPA Network
A WCDMA dual-band: 850/1900 MHz module special industrial-grade M2M applications. Quad-band GSM GPRS 850/900/1800/1900 MHz.
Wired Communication

RS-485, 15KV ESD protection

Inputs and Outputs

4 x Supply Pins: 12V-DC, 2W each

2 x Relay outputs: 10A, 277V-AC

8 x Digital inputs

Environmental Specs

Aluminum IP67 rated enclosure, Explosion proof (Optional)

EMI Shielded

Operating temperature: -40°C to +85°C

Antenna port lightning protection (Optional).

High-powered industrial CPU.

Certifications: CE and FCC.

6 hours Back-up internal battery to power the unit in case of main power failure

Solar power connection ready.

Support intellectual mode, enter into communication state automatically when powered.

Supports auto recovery mechanism, including online detect, auto redial when offline to make router always online.

Low power consumption design, support multi-sleep and trigger modes to reduce the power dissipation.
As most utilities adopt Geographical Information System (GIS) to manage its network, SAMIO is a user-friendly product that is ready integrated with GIS and complements it by offering the utility an in-hand support and in time information, allowing it to better manage its network and convert its assets into smart grid in an effective on line manner through a dynamic dashboard.
We developed a simple GIS application for all SAMIO units installed at site; once an incident is generated, an immediate reflection will be shown on the application with auto-zoom feature on the GIS map. In parallel, live monitoring allows popping results in a simple tabulated manner covering necessary details as description, location and time stamp with automatic calculation of key performance indicators (KPIs).
For better customer services, and as a result to an incident, an immediate high-light of affected network is shown, with detailed identification of customers? names affected, by that fault, in order to take necessary action using a dynamic mobility solution to correct the problem; A log sheet history of all events are registered for future reporting.
As a result, "Outage Management" as well as "Asset Management" are strengthened by building accurate KPIs as SAIDI, SAIFI, Asset Health Index and an advanced predictive maintenance regime leading to "Asset Risk Index".